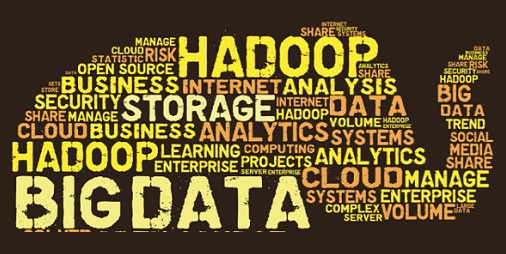 [Data Scientist DSTI] Save the Dates!
1 March, 2018 – Meetup From Relational to Hadoop HDFS at DSTI (Paris Campus or online) 6:30-9:00 PM (Local Time)  – Free registration
Please note that the event will be in English.
Everyone who is interested in Big Data and Data Science has read about Hadoop!
Many companies are trying to set up Hadoop but only a few can actually use it properly.
Data ScienceTech Institute has decided to organise this event to give you a demonstration on one of the fundamental questions everyone faces when starting to use this incredible technology.
With Juvénal CHOKOGOUE, Big Data expert and author of « Hadoop – Devenez opérationnel dans le monde du Big Data », an excellent book which will help you become the Big Data expert you always dreamt of being.
---
12 & 13 mars 2018 – Venez rencontrer DSTI au Salon Big Data Paris les  au Palais des Congrès – Stand C37 !

DSTI, l'un des « Best Online Masters in Data Science & Analytics » selon KDnuggets, vous attend Hall Paris, Zone C, Stand C37
Plan I Pass Gratuit Salon  I  30% de réduction Full Pass Conférences 
---
Data Science in Paris: MSc in Applied Data Science and Big Data  Programme  – 
Amongst the « Best Online Masters in Data Science & Analytics » according to KDnuggets.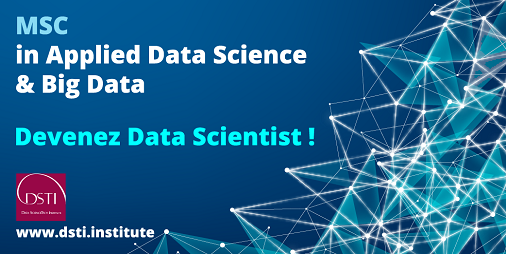 MSc in Applied Data Science & Big Data
Location: Paris Campus/Sophia or Online
Applications for March 2018 are open!
Programme  – 

DSTI is the First French Postgraduate & Industrial Institution in Data: Science and Big Data.
With DSTI's MSc in Applied Data Science & Big Data you will:
Learn how to understand the analysis, design, implementation & monitoring of IT & Big Data architectures
Get familiar with machine and deep learning algorithms with an industrial approach to applied mathematics
Learn how to deploy Big Data architectures and Machine Learning results into corporate systems and get familiar with data visualisation
Get awareness of the legal consequences of data handling, with a pinch of ethical thinking regarding the consequences of mining (big) data
Le tableau de prix n'existe pas. Veuillez vérifier votre code court.
Be trained to and take two Enterprise-Level Certifications examinations:
Amazon AWS Cloud-Computing DSTI Chair
Preparation for AWS Certified Solutions Architect – Associate SAS Institute The SAS ecosystem DSTI Chair
Preparation to SAS Enterprise Miner certification
---
Organisation
This 6-month of classes and 6-month internship Applied MSc programme, with its two entries in Autumn and Spring, is designed to open your career to these Big Data Analytics jobs all industries are looking for.
Classes are given in English from the:
end of September to beginning of April for the Autumn entry;
beginning of March to mid-October for the Spring entry;
Classes for this Applied MSc programme are offered:

on a full-time basis from Data ScienceTech Institute campuses (around 5hrs a day) along with "Engineering Projects" and followed by a 6-month work placement.

through online education
If you are already employed by a French company and taking a sabbatical, tuition fees may be covered by the "Congé Individuel de Formation" scheme (see with your HR department)
---
Eligibility
Applicants with a 3-year BA, BSc or BENG degree: 3 years of work experience
Applicants with a 4-year BA, BSc-BENG or MA-MSc-MENG degree: Work experience
Applicants with a 5-year MA, MSc – MENG or Chartered Engineers: No particular conditions
If you are NOT a citizen and passport holder of a European Economic Area (EEA) country, Andorra or Monaco, you will be required to apply for a long-stay student visa. Please carefully read the requirements on our "Visa Procedure" page.
---
Career opportunities
They are virtually limitless since all organisations need expertise in data science. Also, in spite of the youth of the School, all our students have found industrial placements very easily.
Indeed, the intensive aspect of our programmes allows the students of DSTI to be trained on a wide spectrum of skills necessary for the different professions in data science. This allows each student to naturally specialise according to his or her skills and abilities in particular fields.
In partnership with Couthon Conseil, we have established the profiles of the 6 most sought-after jobs in Big Data and incorporated them into our the Applied MSc & Advanced MSc programmes.
---
Accomodation
Through our private platform dedicated to housing, students and prospective students can access student housing offers close to each campus of their schools.
Our solution fosters the network effect, allowing the students exchange tips and good deals, or find a flatmate.
More information: https://dsti.immojeune.com/en/
---
Applications for March 2018 entry are open!

Programme – Brochure  – Application process –
 More information: https://www.dsti.institute/